This is an archived article and the information in the article may be outdated. Please look at the time stamp on the story to see when it was last updated.
DALLAS — In a few weeks, this four bedroom, two bathroom, single family home could be yours!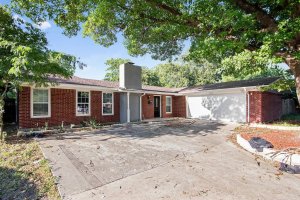 Zillow estimates that you'll spend around $336,000 on the Northwest Dallas home, but before you whip out the checkbook, hold up!
You can't pay cash for it.
The house, located at 3220 Northaven Court is for sale through Cryptocurrency. That means, you pay with Bitcoin, Ethereum, or something new called Property Coin. Those are all digital ways of transferring funds.
Andrew Jewett, CEO of Aperture Real Estate, a California based company came up with Property Coin. "For a long time there has been nothing than can really be bought, no substantial assets that can be bought with Cryptocurrency."
Before Jewett's company owned the house, it was broken into and vandalized. There is work being done to it currently, but soon will be making history. "This is the very first house that the Property Coin entity is buying."
If you haven't quite figured out the digital currency, and need a little time to do some research, there is good news for you. Jewett's company is buying over a dozen more homes in the Dallas area, and will be for sale the same way.
And… if you just don't want to think about it, well, just go old school and buy a house straight up with cash.
Michael Dell, you know dell technologies founder, did just that. He was the one behind the purchase of the most expensive penthouse ever sold in New York City, at just over 100 million!
So, whether you deal in cryptocurrency or cash, owning property may be where it's at.