This is an archived article and the information in the article may be outdated. Please look at the time stamp on the story to see when it was last updated.
DALLAS -- Hey Dallas, word on the street is you're getting your very first cannabis store! It's actually not what you think though. Turns out, this won't be the retail shop we're expecting.
Kannaway is lighting up on Mockingbird Lane in Dallas, selling everything from hemp vape to topical creams created by cannabis.
No worries here, it's all legal.
To put it bluntly, this cannabis won't get you high, but it can have other benefits.
Four-year-old Harper Howard is already a cannabis consumer. She was  diagnosed with a life-threatening disorder that causes seizures and hemp oil has turned her life around.
But nine-year-old Alexis Bortell needs a stronger dose than what Kannaway can sell. She's got epilepsy and after a visit to the Mile High state, her parents got a prescription for medical marijuana.
"We learned that medical cannabis could be her best shot at a normal childhood," her mom said in a YouTube video.
So the Bortell's are on a mission. They say it's high time Texas made it legal. They're lobbying the legislature in Austin, and if they don't get a bill passed, the family says they'll be forced to move to Colorado.
So, is it time for Texas to legalize week? Or are we just blowing smoke?
MORE: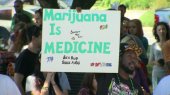 We Need Pot: Hundreds Rally in Dallas to Legalize Weed
   WATCH: Three Grannies Smoke Weed for the First Time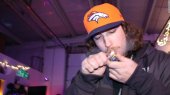 New Bank Could Save the Pot Industry