This is an archived article and the information in the article may be outdated. Please look at the time stamp on the story to see when it was last updated.
DALLAS — The countdown is on until the release of Carter High, a movie that really hits home. It tells the story of the Carter High Cowboys and their journey to Texas State Champs.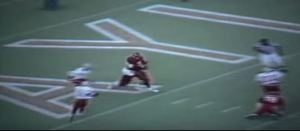 NewsFix got to catch up with producer Tricia Woodgett, who helped bring this Dallas team to the big screen.
"It was actually sad when the production was over. I was like, 'I'm not going to get to see these people every day,'" she laughed. "It was the largest production I've ever worked on."
In 1991, the team had to walk away from their State title. Six were convicted of a string of robberies, others were declared ineligible to play. However, this producer wants folks who see the film to walk away with something else.
"For people to actually learn the story of these boys and their struggle to get to the State Championship, not necessarily focus on the things they did afterward, but focus on their strength and their passion for playing football. And then the audience will also get to know the boys as people, how fun they were, how funny they were, how much they loved one another," she explained.
Woodgett is one of a handful of African-American female film producers in the area.
"It feels good, but I still have a long road ahead of me, and it's been a long road to get to this point. I owned a publishing company and came across a book [Circles]. It turned into my first full feature film."
She's even working on a distribution company for independent, multicultural filmmakers.
"Our struggle is real," she explained.  "Film cloud will be in a position where we can offer that opportunity for the independent filmmaker to showcase their work and make money."