This is an archived article and the information in the article may be outdated. Please look at the time stamp on the story to see when it was last updated.
IRVING -- So, we all know how popular Ahmed Mohamed has been this week. Here's another example -- 15,000 names deep. That's how many online signatures are on a petition delivered to Irving ISD Friday.
The message is simple, "Reverse Ahmed Mohamed's suspension, publicly apologize to the Mohamed family, and reevaluate your disciplinary policies."
But it doesn't sound like the district is going to be apologizing. Irving ISD's spokesperson said
they hadn't had a chance to review the petition, but reminded reporters that the teacher followed proper procedure and responded to the device, not the student.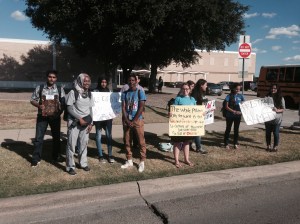 It also doesn't sound like Ahmed will ever be an Irving ISD student again, either. His suspension for bringing his homemade clock to school on Monday is over, but he told NewsFix Thursday that he wouldn't be going back to MacArthur High.
He wasn't available to local media all day Friday. Hey, you'd be exhausted too, trying to schedule visits to just about everyone from the White House to Silicon Valley.
And speaking of exhausting, who's gonna have to read through and verify all those signatures?
Sounds pretty time-consuming, too. Someone should get them a nice big clock. They're gonna need it.