This is an archived article and the information in the article may be outdated. Please look at the time stamp on the story to see when it was last updated.
THE COLONY — Gene Simmons rocked out The Colony Monday for the groundbreaking of his new restaurant Rock & Brews.  It's expected to open in January right next store to the Nebraska Furniture Mart.
"For the Grand Opening, myself and the much better looking Paul Stanley are going to be right here at The Colony," Gene Simmons, founder and bassist for KISS told NewsFix.
Rock & Brews is quickly becoming a popular restaurant in the U.S. It's one of the fastest growing small chains in America, according to Restaurant Business Magazine.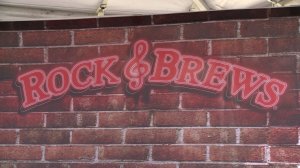 "Bring your family. This is family entertainment.  Best food.  Best drink."
Expect good comfort food and a great selection of beer.
"We give five-star service in a four-star restaurant," Simmons said. "When you come in here you may not be a rock star, but we're going to make you feel like one."