This is an archived article and the information in the article may be outdated. Please look at the time stamp on the story to see when it was last updated.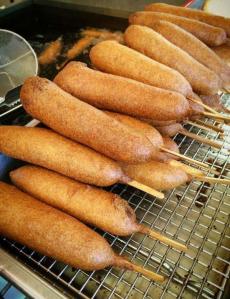 FAIR PARK – The State Fair of Texas usually means three things: fun times, fried food, and more fried food. The hands-down favorite? The infamous Fletcher's Corny Dog. But this year they're giving fair-goers another option. A meatless option.
Wait, what? You read that right — veggie corny dogs!
This healthier option is a Fletcher's first and they say folks have been longing for such a dog for years now. But do you think this new rendition of the old dog is cool, or… well … corny?
"Ain't no meat and I'm a meat person, so I know I won't be eating that," Angelia Pleasant said.
"I like meat, but I have a lot of vegetarian friends that might be into that," Matt Swanson told us.
"It might be something that's good for me, ya know, so I'm gonna give it a try this year," Robin Robinson said.
Now if you're wondering, the veggie dogs will be the same price as the corny dog –10 coupons!
However you dip it — whether you're for it or against it – the veggie corny dog is something you're just going to have to try and digest.
Doggone it!