This is an archived article and the information in the article may be outdated. Please look at the time stamp on the story to see when it was last updated.
DALLAS -- We all know drinking and driving is bad, yet people still do it all the time, especially during holiday weekends. Police departments across Texas are stepping up their prevention programs with Labor Day coming up.
"This is kind of the last big hurrah for the summer," says Texas Department of Public Safety Lt. Lonny Haschel.  "We want to remind them it's important to plan while they can, before they take that first sip."
Part of TxDOT's "Plan While You Can" campaign includes a website, SoberRides.org, which provides easy access to multiple transportation options from wherever you are including cabs, rideshares, and linking with your social media accounts so you can reach out to friends for a ride.
According to the Texas Peace Officer's Crash Report, the three-day Labor Day weekend last year featured 264 alcohol-related car crashes, resulting in 14 deaths and 19 serious injuries.  And others who were pulled over before they could do any physical damage still suffered a major hit to their bank accounts!
"The average drunk-driving arrest in Texas is $17,000 for a first offense," says Lt. Haschel.  "That's hiring an attorney, getting the car towed, the fines, fees, all those things.  They add up."
Of course impaired driving is a year-round concern, and according to recent data 10 of the top-35 cities in Texas for drinking-and-driving death rates were in the DFW area.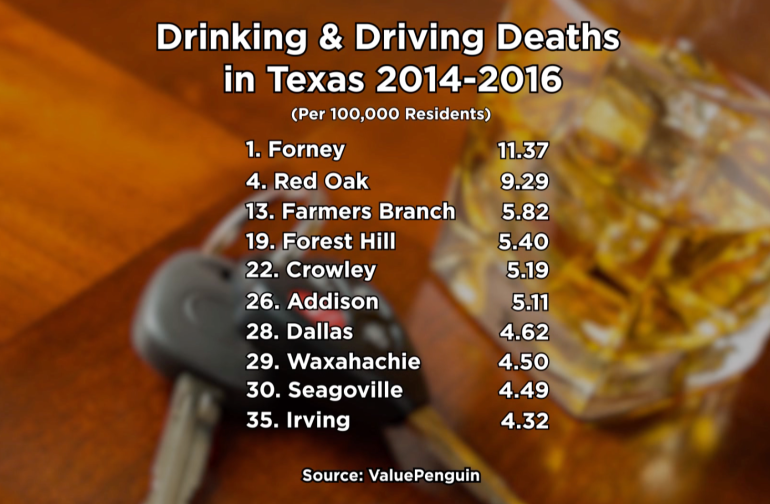 Laura Gonzalez knows about that all too well.  In 2013 her husband, Rico, was killed in a head-on collision by a wrong-way driver who had a blood-alcohol level of .16, twice the legal limit, as well as traces of cocaine and marijuana in her system.  Gonzalez has since become a vocal advocate against drinking and driving, using her story as a cautionary tale to others.
"Probably the hardest part about it is trying to make sense out of such a senseless thing," says Gonzalez.  "It is 100 percent preventable."
So go have all the fun you want, just be smart about it.  With taxis, Uber, Lyft, etc., there's no excuse to drive yourself!