This is an archived article and the information in the article may be outdated. Please look at the time stamp on the story to see when it was last updated.
NORTH TEXAS -- Report cards aren't just for students anymore.  School districts in Texas now get them, too. But, not everyone likes it, even those who received a good grade.
The Texas Education Agency debuted its much-debated grading system for school districts Wednesday morning, boiling down a complex formula into simple ratings of A, B, C, D, and F (if reading those letters makes you wonder why "E" was skipped, here's your answer; learning is fun!).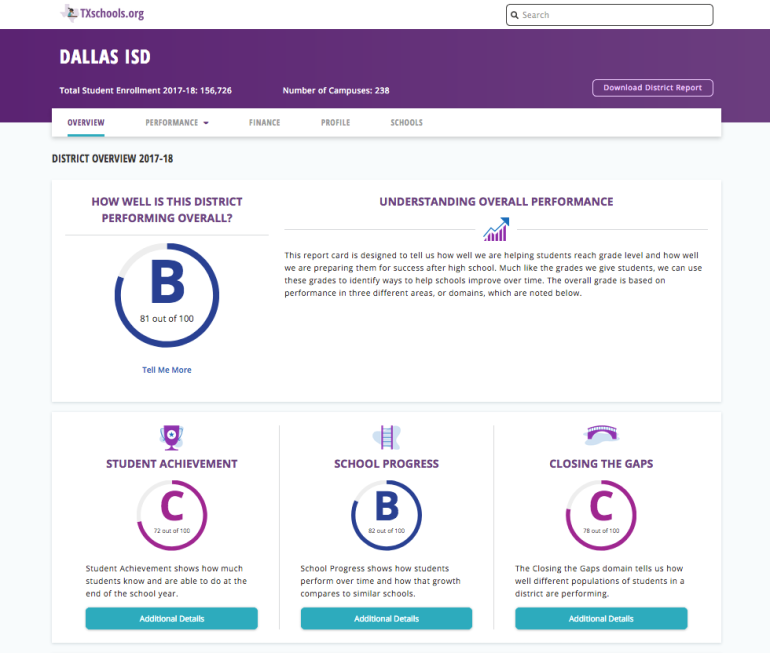 "We have tried to release this tool so that the public has clear access to transparent performance information, so that our administrators have clear access," said TEA commissioner Mike Morath at a press conference in Wylie.  "So we can truly embrace an idea, an ethos, a culture of continuous improvement."
But, many school districts believe the grades over-simplify their educational process and results, relying too heavily on standardized testing without accounting for a student's overall school experience and the challenges he or she might face, such as living in poverty or speaking English as a second language.
"A simple answer to a complex issue is not always the best way to go," said Dallas ISD superintendent Dr. Michael Hinojosa, whose district received a "B."  "Most of this is based on the STAAR Test, especially at the elementary level.  It's 100 percent STAAR Test [there]."
The TEA concedes elementary and middle schools are currently judged primarily on standardized test scores because they have little to no other data points to use to compare those schools, like graduation rates for high schools.  But following the 2018-19 school year, when individual schools begin getting graded "A" through "F" along with their districts, some schools will be able to submit additional factors for consideration, like participation in extracurricular activities.  (Numeric scores are currently available for individual schools so you can figure out what they would be graded, i.e. a 90 would be an "A," but they are not yet being officially letter-graded.)
Reactions across DFW were similar to Dallas ISD's.
"Lewisville ISD rejects this form of accountability, as our district and our schools are more than a grade based on a state standardized test," said superintendent Dr. Kevin Rogers, whose district received a high-"B."
"The TEA system does not reflect the multiple ways in which we assess our students' performance and growth," said Lake Worth ISD superintendent Dr. Rose Mary Neshyba, whose district is challenged by nearly 83 percent of its students being economically disadvantaged and received a "D."
Arlington ISD superintendent Dr. Marcelo Cavazos agreed, but added his high-"C" district "will use these results as one piece of data to inform our improvement efforts across the district as we remain focused on providing exceptional opportunities for our students."
More than 50 school districts have teamed up to create a more in-depth and localized accountability system for showing student progress, but they understand they still need to acknowledge the current method, even if they disagree with it.
"It is important.  We can't ignore it," said Dr. Hinojosa.  "The business community pays attention to it, the realtors pay attention to it, and it's not going away.  So we've got to stop whining about it, but we have to state our objection, our conscientious objection to it, and then work to improve it."