This is an archived article and the information in the article may be outdated. Please look at the time stamp on the story to see when it was last updated.
FORT WORTH -- In the world of going viral Texas Wesleyan University's baseball program hit a home run Wednesday night, but it was not a cause for celebration.
An email from head coach Mike Jeffcoat turning down an interested Colorado high schooler because of his state's legalization of marijuana lit up social media.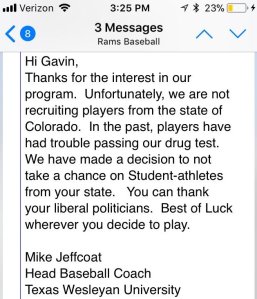 "Hi Gavin, thanks for the interest in our program," the email read.  "Unfortunately, we are not recruiting players from the state of Colorado.  In the past, players have had trouble passing our drug test.  We have made a decision to not take a chance on student-athletes from your state.  You can thank your liberal politicians.  Best of luck wherever you decide to play."
Talk about an error in judgment!
Not surprisingly, the former Texas Rangers pitcher is now a former head coach.  The university acted swiftly and parted ways with him Thursday morning, though president Frederick Slabach would not clarify whether Jeffcoat was fired or resigned.
"The comments Mike Jeffcoat made are in no way a reflection of our university or its values," Slabach said at a news conference.  "We do not tolerate discrimination."
But Jeffcoat's removal from the job wasn't just for the email.  Turns out, he already had a strike against him.
"It came our attention about a week ago that there were some infractions occurring within the program," Texas Wesleyan athletic director Steve Trachier said.  "The allegations have to do with student eligibility and eligibility issues."
As for the high schooler involved, he says he didn't intend for any of this to happen.
"This wasn't meant to go viral or anything," Gavin Bell said from his home in Colorado. "I just sent it to a high school teacher of mine and it just went public.  My intention wasn't to get anyone in trouble. My intention was to just try to play baseball."
Texas Wesleyan says he's welcome to apply if he chooses, but even though the Rams are currently 11-2 and ranked No. 23 in the NAIA poll we imagine he'll be swinging by some other campuses first.
Oh, and the Rams have a freshman from Colorado on their roster, so either Jeffcoat inadvertently outed a failed drug test by that player or his claim makes even less sense.