This is an archived article and the information in the article may be outdated. Please look at the time stamp on the story to see when it was last updated.
DALLAS -- A police officer identifying himself as a lieutenant with the Dallas Police Department took to the bullhorn late Saturday night, a crowd of about 150 mostly young people in front of him.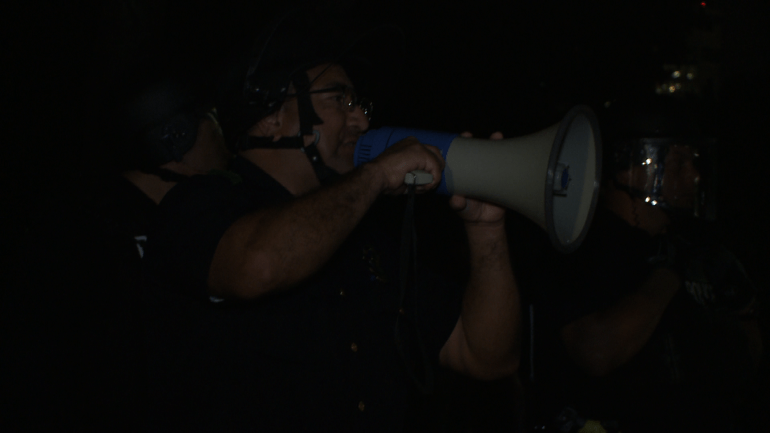 "Tonight's rally protest has concluded. At this time you are being asked to leave," he told the crowd.
They didn't take it well.
"F*** you!" one young woman shouted, grasping the hand of another woman and thrusting them over their heads.
"Move!" Police yelled, slowly inching forward, pushing the crowd back.
Close to 3,000 people came together against white supremacy and the Confederate monuments in Dallas.
"We do not negotiate with white supremacists!" Muslim community leader Alia Salem said to the crowd gathered at City Hall Plaza.
"The time is always right to do what is right, and now is the time to do what is right in the City of Dallas," Rev. Dr. Michael Waters continued, launching the crowd into cheers of "Bring them down! Bring them down! Bring them down!"

The message on City Hall Plaza was stern but peaceful.
"We will not sit quietly on the sidelines anymore," said Eric Ramsey, a member of In Solidarity, the group that hosted the rally.
"When we tear down monuments, we can lift up love," Rev. Dr. Waters continued. "When we tear down monuments, we can lift up equality. When we tear down monuments, we can lift up one another. Will you join the work? Will you stand for justice? Will you see this through?"
But as night fell on Dallas, Antifa descended on Pioneer Plaza's Confederate Memorial, a broader message on their mind.
"Cops and Klan go hand in hand!" they screamed toward the Department of Public Safety officers stationed in front of the monument.
The majority were still listening to speakers at City Hall Plaza, but the minority were the ones making noise.
They surrounded one man who called out Communists for killing people, then another who was draped in a Confederate flag. Finally, they turned to the officers, some of them now on horseback.
"Hey, f*** you, you piece of s***," one shouted through a bullhorn, a mask over his face. "Yeah, you up there on the horse."
The message from In Solidarity up on City Hall Plaza was a bit different.
"All of this couldn't have been possible without the Dallas Police Department, so we really appreciate their presence," member Connie Trinh said.
The force had used what they described as the largest Police presence at one event in city history. They also had city dump trucks and DART buses blocking all routes into the rally area to make sure there wouldn't be a Charlottesville-style car attack.
By 10 o'clock, the plaza sat empty, and Antifa had gone home, but the seeds of discord were sown.
Dallas Police and partnering forces attempted to move protesters from the edge of Pioneer Plaza across Young Street, standing in formation as they pushed against a group chanting, "F*** the Police!"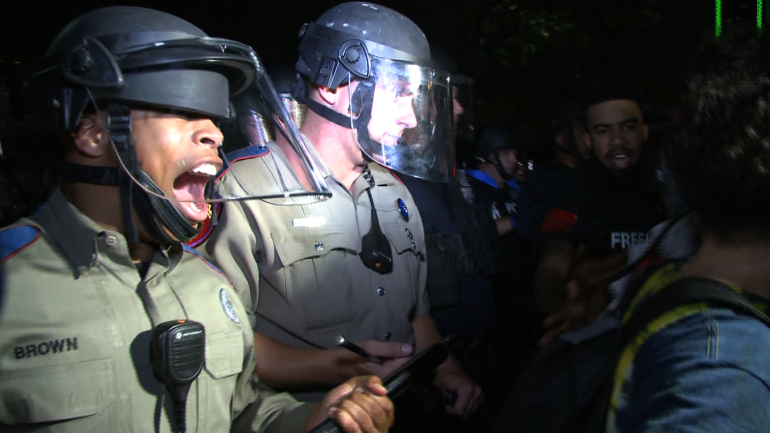 The horses took over on the front line, finishing the job.
Just before 11, it was over.
No arrests, five detained and released, no mace used, no shots first of any kind.
And yet...
"They not out here to protect!" protester Lamar Works said. "You gotta have all this heavy duty equipment for our next generation? You ain't here to protect."
The distrust and wounds in America have a long way to go.