This is an archived article and the information in the article may be outdated. Please look at the time stamp on the story to see when it was last updated.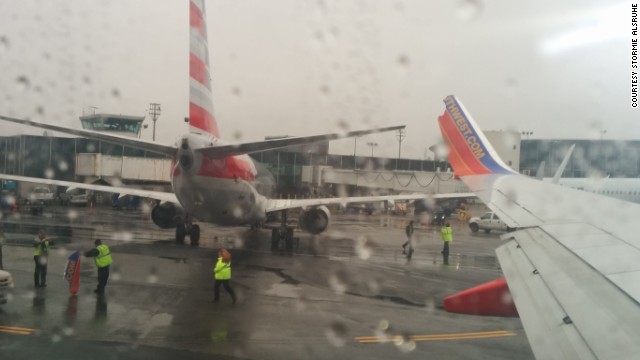 NEW YORK — It's not your typical holiday travel snag.
Two planes bumped into each other on the tarmac at New York's LaGuardia International Airport around 11 a.m. Tuesday.
After a hectic morning, passenger Stormie Alsruhe, 30, was just settling into her seat on Southwest Airlines Flight 449 looking forward to enjoying her coffee.
"And then there was this bump. I look out the window and I actually see the tip of the plane (wing) falling off," said Alsruhe, who was heading to join her husband's family in Denver for the holidays.
"I saw it kind of dangle and it just fell. And I thought, 'OK great, we're not taking off now,' " she said.
The wingtip of the Southwest 737 clipped an American Airlines 737 awaiting a gate at LaGuardia. There were no injuries, according to both airlines. The Southwest aircraft bound for Denver has been taken out of service for inspection and repairs, the airline said.
https://twitter.com/Ari_Be_Free/status/547431589672910848
https://twitter.com/Ari_Be_Free/status/547487758596714497
"The 143 customers on board (Southwest) Flight 449 deplaned the aircraft via airstairs and were (bused) to the terminal where our teams are working to get them to their destinations," Southwest said in a statement.
Alsruhe said she is flying to Denver on Tuesday afternoon on another flight.
The American plane, operating as Flight 1104, had originated from Dallas Fort-Worth. The plane was "taxiing to its gate at LaGuardia Airport when its left horizontal stabilizer and the winglet of a moving Southwest Airlines 737 made contact," American said in a statement.
A winglet is a vertical extension of an airliner wing that is designed to save fuel.
Passengers tweeted photos of the damage Tuesday. "Plane I was on had its wing clipped," one said.