This is an archived article and the information in the article may be outdated. Please look at the time stamp on the story to see when it was last updated.
ATLANTA — Rapper T.I. says he's the "King of the South," but he just might be the undisputed king of the Trump roast!
Things got real crazy after Trump called out Snoop Dogg for pulling a gun on the clown version of him in a recent music video.
Soooo … we're guessing Donald watched the video, because he boldly tweeted Snoop this:
Can you imagine what the outcry would be if @SnoopDogg, failing career and all, had aimed and fired the gun at President Obama? Jail time!

— Donald J. Trump (@realDonaldTrump) March 15, 2017
Might've been a bold move by The Donald, but things backfired when T.I. stepped in. Tip posted an entire paragraph on Instagram defending the "legendary" Snoop. He called Trump everything from a "tangerine tanned muskrat" to a "lace-front possum, fur wig wearing, alternative fact atomic dog…"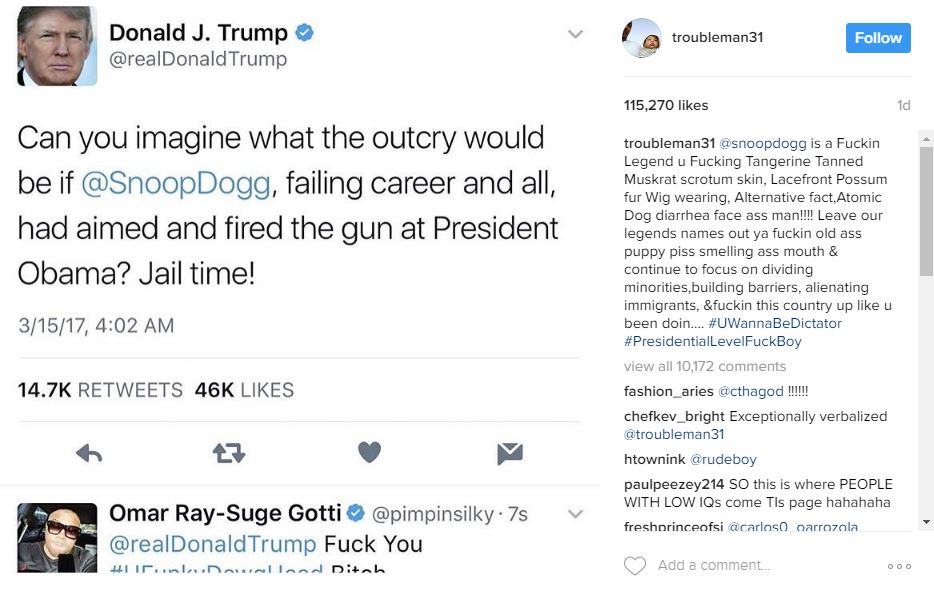 It didn't take long for other rappers to join in on the action– like Bow Wow who threatened to pimp out Melania.
Moral to this story, Trump: you've been getting away with trolling Hollywood… but not HollyHood.