This is an archived article and the information in the article may be outdated. Please look at the time stamp on the story to see when it was last updated.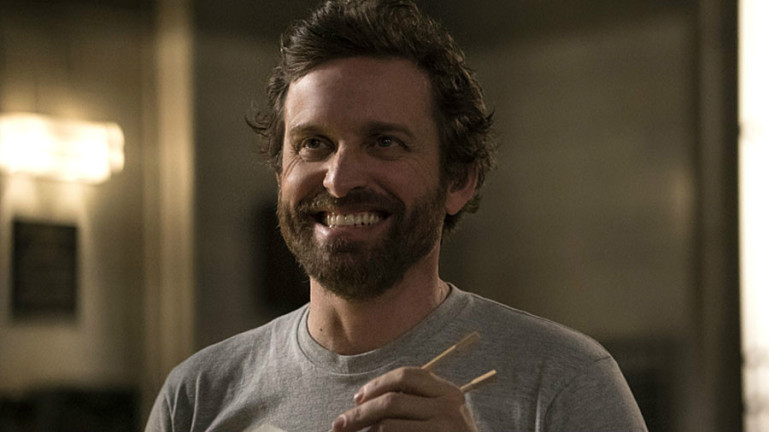 It's been a long time coming — like, a really long time — but in last week's episode of "Supernatural," titled "Don't Call Me Shurly," Rob Benedict returned to the CW series as fan favorite Carver Edlund/Chuck Shurley. His character's story arc began all the way back in Season 4 as the author of "The Winchester Gospels." That storyline soon presented Edlund's character as Chuck Shurley — prophet of God. But where was God? No one knew.
At the end of Season 5, Shurley appeared dressed in white, delivering an ode to Sam (Jared Padalecki) and Dean (Jensen Ackles) before vanishing in a poof, leaving fans to begin speculating whether he was indeed God. It was when that season was finished, Benedict tells Zap2it, that series creator Eric Kripke revealed to him that he was. It was a surprising notion for Benedict, who originally was set to play Carver/Chuck for one episode.
RELATED: 'Supernatural': Metatron helps Chuck (God) find his soul
In our conversation with the actor, he admitted it was an exciting tidbit of news but one that came with the possibility that he may never return to the show. After all, it's tricky dropping a God bombshell and then meeting that level of story intensity moving forward. So, the crew waited and five seasons later, in the Season 10 musical episode titled "Fan Fiction," Chuck made a small cameo. It wasn't much, but it was enough to fuel rumors that he would be reuniting with the Winchesters soon.
At the beginning of 2016, Benedict received the official call from writer/co-executive producer Robbie Thompson that it was go time and before he knew it, he was up in Vancouver filming his scenes with Curtis Armstrong (who plays Metatron). It was in these bar scenes where God reveals his true identity to the "Supernatural" audience and what ends up playing out between the two actors are scenes that can equally deliver the same impact if it were a live stage play.
Having never worked with Armstrong before, Benedict raves about the experience which not only deviated from the normal genre fair the series is known for, but explored the strong bond between Metatron and God. Some may even say that God called Metatron there to talk him down from that proverbial ledge. There's a moment where they revisit all that nature had to offer and God notes the magic of music — human nature's creation.
Given the choice between Brian Wilson and Keith Richards, the creator ultimately takes the edgier road with his memoir and this is the moment that kicks off his return to the experiment he was almost going to let Amara destroy. Before God reveals himself to Sam and Dean, Rob Benedict was given the opportunity to play "Dink's Song" on the series.
Having a preference for the Mumford & Sons version, Benedict calls this specific experience a highlight. Not only did he get to exercise his musician muscles, but he sang the number in two takes. That final scene that made it to air had no cuts and no added production — it was shot live.
With God returning to his creation, the stage is set for the biblical family drama between him, Amara (Emily Swallow) and Lucifer (Mark Pellegrino) to play out. Comparing his return to Earth as a deadbeat dad seeking forgiveness from his children, it seems his team-up with the Winchesters will pose a challenge or two. At the very least, it feels like "Supernatural" is setting itself up for one heck of a season finale.
RELATED: 'Supernatural': A werewolf, a gunshot, a suicide … oh my!
However the chips may fall remains to be seen, but one thing is for certain … when we asked Mr. Benedict how he feels about joining the actor ranks of those who played God before him — Morgan Freeman and George Burns come to mind — his reply seemed very apropos:
"Not to sound cliche here, but it's been a blessing."
"Supernatural" airs Wednesdays at 9 p.m. ET/PT on The CW.