This is an archived article and the information in the article may be outdated. Please look at the time stamp on the story to see when it was last updated.
FORT WORTH -- Texas is used to hot weather, but if you think it's been a bit hotter a bit earlier than normal this year, you're right.
"Usually we do start warming up as we get close to the end of May, but we've actually had some temperatures that are near record values," says Matt Stalley, a meteorologist with the National Weather Service's Fort Worth station.  "Anytime you get close to those records you know you're looking at something that's a little uncommon for this time of year."
After two weeks of temperatures in the 90s, DFW is looking at possibly hitting 100 this week--possibly more than once.  If it happens before the calendar turns on Friday it will be the first time the area has hit 100 before June since 2006, and it would be only the 16th pre-June occurrence since official record-keeping began in 1899!
But don't blame climate change here.  It's just Texas.
"We've hit 100 degrees as early as March before," notes Stalley, "so it's certainly not that exceptional for this year."  He says the average first date for hitting 100 in DFW is July 1.
Whether or not the official temperature reaches 100, the heat index--what it feels like outside--is predicted to top 100 through the weekend.  So stay hydrated, take breaks from being outside, and make extra sure to not leave kids or pets in your car!  Since 1998 an average of 37 children have died each year from car-related heatstroke, and more than half of those cases were reportedly caused by caregivers forgetting those kids were there.
"It just takes one thing to throw off your routine," cautions Stalley.  "Check the backseat whenever temperatures start to climb.  It only takes a few minutes to make your vehicle just completely unsurvivable in this kind of heat."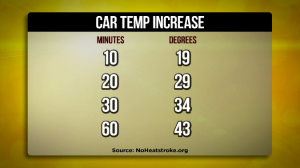 So don't stay inside your car, but stay inside just about anywhere else for the foreseeable future!