This is an archived article and the information in the article may be outdated. Please look at the time stamp on the story to see when it was last updated.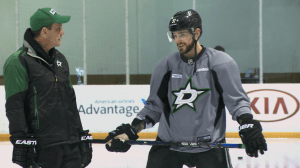 EULESS, TX — The Stars hit the ice at the Dr. Pepper Star Center in Euless for a little Sunday morning practice in front of hundreds of victory green clad fans!
Yeah, maybe the huge turnout can boost the boys spirits!
After a blazing start to the season, the Stars have cooled off, only managing two wins so far in January, dropping to second place in their division behind the Chicago Blackhawks.
But the good news is the All Star Break hits this week, giving the team a much deserved break!
"It's always nice to have the chance to get away from hockey, just think about something else." said defensman Johnny Oduya, "The way things have been going for us, I think it will be a good thing, get reset, get refocused, get some energy back and just go after it afterwards."
Of course for three Stars, the All Star Break won't be as much a break as a chance to shine.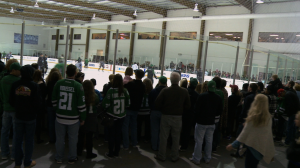 Jamie Benn and Tyler Seguin have been voted onto the Central Division team, while head coach Lindy Ruff will serve as coach of that squad.
He's not worried about the lost time off for him and his players, though.
"I think in someways they can go and have a lot of fun and it might help, that's the way they gotta look at it." said Ruff, "Maybe it'll be a time to take a deep breath and be ready to go when they come out of it."
Well hopefully Dallas is ready to go once the calendar changes over to February, or else the hopes of playing deep into May and June might be on thin ice!