This is an archived article and the information in the article may be outdated. Please look at the time stamp on the story to see when it was last updated.
DALLAS — The question of "Will he or won't he?" was answered on Saturday, and the answer was: yes, he did!
After dropping a freestyle track last week that included a shoutout to the Oak Cliff neighborhood of Dallas, star rapper J. Cole made a very welcome appearance at the annual For Oak Cliff Back to School Festival at Glendale Park.  While he declined to speak with NewsFix, his visit said volumes to those who were there.
"He spoke to every single person, shook every single hand, listened to people's stories and the things that they've been through," said For Oak Cliff founder Taylor Toynes.  "It's just a blessing to see that authentic love that he had for our community."
The record-breaking rapper spent some summers in Oak Cliff while growing up and just happened to have a concert scheduled at the American Airlines Center Saturday night, so the timing was perfect.
"[We don't get celebrity visits] that often," said Toynes.  "Last thing I heard was Michael Jackson came through here.  I don't know if that's true or not, but we know J. Cole came today."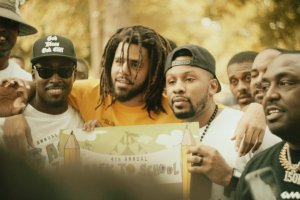 While the rapper got plenty of attention during his hour-long visit, the overall focus was helping local students in pre-K through college get ready to go back to school.  Thousands of supplies were given out during the fourth edition of the event, and dozens of organizations were on hand to show the impoverished community the various kinds of help that are available.
"We're here to liberate Oak Cliff from systemic oppression and just give all the opportunities that we can to our people," said Toynes of For Oak Cliff's mission.  "There are a lot of people doing positive things in our community.  I think this is a space for us to put it on the front page and let people know what's actually going on."
And thanks to J. Cole's appearance, people definitely knew what was going on this time!