This is an archived article and the information in the article may be outdated. Please look at the time stamp on the story to see when it was last updated.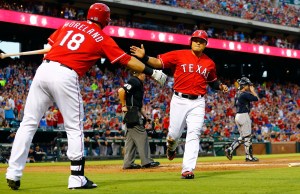 ARLINGTON, TX — Thursday night's the night Rangers fans! A win and the club clinches a spot in the playoffs! It'll still take at least one more day to lock up the division title, but one more win will at least guarantee Texas a wild card spot.
It's something that absolutely zero experts predicted back at the beginning of the season.
But you fans knew better! The fans we talked to back before the season started were confident in this ball club from the start. Don't believe us? Check the tape.
Yeah, your faith has been rewarded fans, but we still need to talk. Yeah, what's wrong with this picture?
The club's unbelievable run to postseason baseball apparently hasn't been enough to get fans out to the stadium. The team's attendance numbers are the lowest since 2009. They're averaging 3,000 fewer fans a night than last year when the Rangers were dead last.
So, no more excuses, Rangers fans! The boys in red have rewarded your faith, time to reward their hard work with a packed house. This is playoff baseball, folks!
After all, you wouldn't want somebody saying that this isn't a "baseball town."