This is an archived article and the information in the article may be outdated. Please look at the time stamp on the story to see when it was last updated.
DALLAS-- Chef Blythe Beck took a step out of her kitchen this week and stopped into SPCA of Texas.
She says feeding the community is key to feeding your soul.
After recently visiting for a fundraiser, she was inspired by the work the organization does for animals in need.
If you want to help, you can volunteer to help walk the dogs.
You can donate a gift or blankets to the dogs.
Or, you can give an animal a forever home.
Chef Blythe fell in love with Precious, a female Cane Corso mix. However, she has a few rescues at home and is hoping you'll adopt her.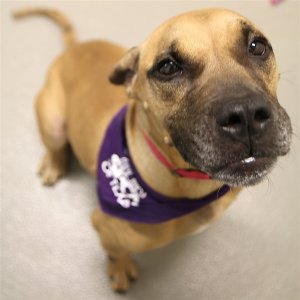 "Precious' before and after is almost hard to believe. She, along with 18 other cruelly-treated animals, were seized from a home near Terrell, TX in early November. They were brought to the SPCA of Texas' Russell E. Dealey Animal Rescue Center to receive the medical care and support they desperately needed. Precious weighed a heartbreaking 34 pounds when we first met her; she was also suffering from: hair loss, broken canines, sores on her right front leg, and was covered in fleas. After months of helping Precious heal both physically and emotionally, the 2-year-old Cane Corso mix is ready for her second chance at a loving, happy, and healthy life! She's gained a healthy 20-pounds and her adopter will need to help her gain even more weight; due to her past, she's a bit possessive over her food so it's best that she eat alone. Precious LOVES head scratches, and has one of the kindest smiles we've ever seen. Like her name suggests, she's precious. Your support is giving her the second chance she deserves, she's come a long way and her journey is almost complete. All that's left is for Precious to find her forever home!"
There are cats and kittens too!
Meet Marmalade! The 2-year-old kitty is making her adoption floor debut at the SPCA of Texas' Jan Rees-Jones Animal Care Center in Dallas. #tunatuesday pic.twitter.com/iI9giibTqN

— SPCA of Texas (@spcaoftexas) February 6, 2018
Do you need help putting some spice back into your kitchen?
Contact CW33's Nicole Johnson with your ideas... and the chef just might help you out during the next Spice Of Blythe.
Email: nicole.johnson@cw33.com