This is an archived article and the information in the article may be outdated. Please look at the time stamp on the story to see when it was last updated.
FORT WORTH – Everything must go! No, we're not talking about a mall clearance, we're talking about the Wendy Davis estate sale.
"This is actually a moving sale," realtor Paula Britain said. "Wendy Davis is moving out of this townhome, and the things that she decided not to take with her are the things that we are selling."
The sale, which kicked off Friday morning, brought a slew people looking to pick up some of the State Senator's lavish stuff.
"There's clothing, there's handbags, there's shoes, all very expensive really high-end stuff," Britain said.
"It's amazing," one shopper said. "I mean, I love shopping so it's every girl's dream right now to come in and see all these shoes and clothes and purses."
"The prices are pretty good," another shopper told NewsFix. "Except on some of the stuff, it's kind of high."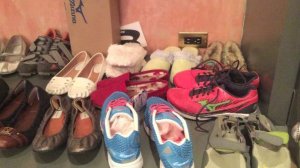 Now, the one thing that wasn't for sale? The infamous sneakers Davis wore back in 2013 during her 11-hour filibuster over abortion rights. But replicas were on sale. And as you can imagine, went pretty quickly for $150 bucks.
"They were the first thing that sold," Britain said. "There was a man waiting in line. I had no idea how long he'd been waiting in line. But he ran in the door and grabbed them and purchased them. She had kindly autographed the box for those too."
Hey, if you weren't able to make it out Friday, no worries. The sale lasts through Saturday at 4 pm, but there's no guarantee the good stuff will still be there.