This is an archived article and the information in the article may be outdated. Please look at the time stamp on the story to see when it was last updated.
ATLANTA – A Tim McGraw concert turns into a smackdown!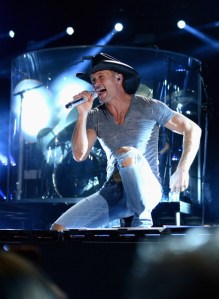 Video is making the rounds on the internet, showing the country singing star slapping a touchy fan during his show in Atlanta Sunday.
It happened as McGraw was working the stage during a performance of "Truck Yeah". That's when a female fan grabs his leg, her hand moves higher near his unspeakable parts… then BAM! McGraw smacks her in the head.
A security guard escorted her out… and the show went on.
Right now, the woman has not filed a complaint. Atlanta PD is reviewing the videos to see if charges will be filed.
Hey, she's a McGraw fan, so she knows he songs. All he wanted was for her to "let it go."