This is an archived article and the information in the article may be outdated. Please look at the time stamp on the story to see when it was last updated.
ARLINGTON, Texas — Zachary Monsalve, Emma Gagarin, and Alex Monsalve might be all smiles now, but it was a different story this weekend.
The Monsalves took the trio to Six Flags Fright Fest around 6 in the evening when the entire place basically turns into a haunted house, swarmed with zombies and creatures of the night! It wasn't long before things got really scary.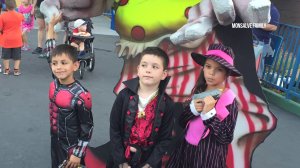 "I was on my knees screaming, crying, yelling at him to stop, and he tapped on my shoulder 'cause he wanted me to look up at him," 10-year-old Emma said.
"She's on the ground shaking, and he's tapping her on the shoulder growling at her, and that's where it crossed the line. I thought if I put my hands up to stop, and that's when they didn't stop.  I talked to a supervisor, he was defiant," Marlon Monsalve said.
The family wanted to escape. They told NewsFix, in order to do so, they had to go back through the park.
Six Flags issued a statement Monday.
"We apologize if the guest was frightened.  Fright Fest is more intense after 6 p.m. and is not intended for young children. We have signs posted at various locations and park announcements are made throughout the day.  Our family-oriented activities take place from 10:30 a.m. until 6 p.m. offering fun activities like our Trick-or Treat trail, Kids' Karaoke, a Kids' Costume Catwalk contest, along with rides geared towards our younger guests."
"It's been good in the past. We never saw it happen like this before," Monsalve said. "There were other families who had to be escorted out by the same officer."
"I just want to thank him because he really helped us," Emma added.
"The officer, he let us hold his jacket and walked us out of the park. We were still traumatized after we got out the park," Zachary said.  "We got ice cream. That made everything better."
Eight-year-old Alex has a message for that scary ghost, "If you're watching, I will bite you!"