This is an archived article and the information in the article may be outdated. Please look at the time stamp on the story to see when it was last updated.
DALLAS, TX — Staying active comes easy for Dallas Maverick Tyson Chandler. The seven-foot center runs the court on any given game day.
On Monday, Tyson stopped by Esperanza Medrano Elementary School for a different kind of shoot around.
"It's important for kids to be active," Chandler explained. "We've seen a decline in activity for kids throughout the generations."
Tyson isn't just a baller, he's also a UNICEF Ambassador. You know – the organization that helps kids around the world?
Tyson, along with Mayor Mike Rawlings, launched UNICEF Kid Power, and they recruited help from some of the school's students.
"It was really fun because we got to play a lot of games and it's really cool because we get to shake their hands and take pictures with them," program participant Angela Gomez said.
Here's how UNICEF Kid Power works: the kids wear fit bands that monitor their steps; every 2,500 steps equals one point.
"For every five points the children receive, they feed a child in a third world country," the school's principal explained.
Talk about a winning concept; and speaking of winning – that's exactly what the Mavs need to do as they wrap-up the regular season.
Sunday night's loss the to the Indian Pacers was tough, and it didn't help that Monta Ellis was out with an injury.
"We gotta start playing better basketball, especially rolling into the playoffs," Chandler said.
"[Ellis] has been such a vital part of our success this year, I don't think one guy is going to necessarily be able to fill his shoes. I think it's going to be a collective thing."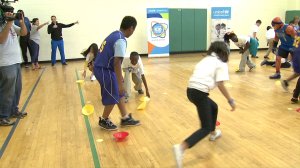 Hey, Tyson – looks like these pint-sized players got your back. Wonder how many UNICEF points they can rack-up for a game?