This is an archived article and the information in the article may be outdated. Please look at the time stamp on the story to see when it was last updated.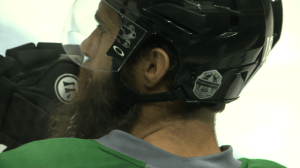 DALLAS — The Stars are back on the ice Thursday night, dropping the puck against Anaheim to start the new NHL season.
"It means a lot," Jamie Benn said of Opening Night. "It only happens once a year and it's almost like the first game of the playoffs. You get really excited for this one, a little bit of nerves, and come 7:30 tonight we're all going to be ready to go."
But it's not just the first face-off that's making this game special.
The Stars open their season by honoring the five Dallas officers who were killed on July 7. Their badges are on the back of every Stars helmet, a move similar to the one that the Cowboys tried to do before the NFL nixed it.
Also as part of the ceremonial pre-game puck drop, the families of Michael Smith and Brent Thompson will be on the ice.
"A small way of trying to support our community and our police officers that do such a tremendous job inside of our community and try to make it safe for all of us," Coach Lindy Ruff said. "The tragic incident that happened here in Dallas, it's just a small way for us to try to help support."
"We love Dallas and anytime something tragic happens you want to show your support," said Tyler Seguin. "People watch us and look up to us. Tonight we're going to be thinking about all those people."
"We're all behind these two families that are going to come out tonight and hopefully try to get a win for them," Benn added.
A win the Stars hope is the first of many, as Dallas heads into the season with their eyes on the ultimate prize, while still honoring the things that are more important than any one game.