This is an archived article and the information in the article may be outdated. Please look at the time stamp on the story to see when it was last updated.
DALLAS -- "I wake up every night in the middle of the night with panic asking myself if I'm making a bad decision."
The feelings Meghan Wheeler shared with NewsFix Tuesday certainly aren't how someone should feel when trying to experience his or her heritage.
"I was always raised to be very proud of my Czech heritage, and it seems the older I get the closer I want to get to that," she said, showing pictures of relatives and even a 150-year-old Czech Bible passed down through the family.
Wheeler decided to move to Prague and teach English as a second language after her family left the city for Texas around 1850. She lined up multiple job interviews, had a plane ticket marked August 12, and she just needed the perfect place to stay.
That's when she found a potential landlord going by the name Jan Michalka.
"I sent probably about ten emails within a week," Wheeler said of her experience with Michalka. "She built a relationship with me. I felt like I could trust her."
The apartment was beyond her expectations, it was a reasonable price, and it was hers as long as she needed it. Wheeler decided to dive in.
"She said, 'Okay, the interaction's going to be done through Airbnb,'" Wheeler remembered. "'Okay, it's going through Airbnb. Great!' I end up getting an email from Airbnb. It told me that my money was going to be put in an Airbnb holding account."
Initially, Wheeler was afraid of being asked to transfer money to a personal account halfway across the world. The option of using Airbnb seemed safe and easy.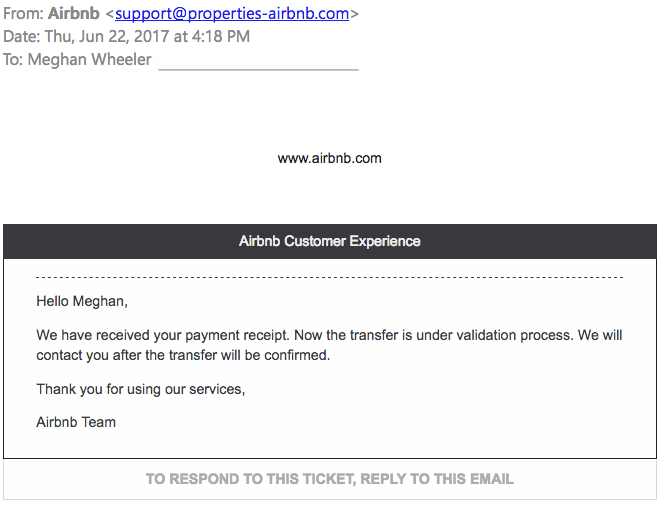 The problem was the website and the account looked like the popular rental site, but one little hyphen in the email address cost Meghan $1,800.
After the landlord stopped responding to her emails, Wheeler decided to try the real Airbnb.
"They send me an email telling me 'Oh yeah, you've definitely been scammed. We're so sorry, but we're not liable,'" she said.
Police say it's a dead end and a lesson learned, though Police in Prague do want to meet with her once she arrives in August.
As for the next couple months, you can help get that money back through a GoFundMe, and Meghan's just going to keep hoping for the best.
"Nothing good in life ever came easy, and sometimes we have to overcome obstacles to get where we want to be."