This is an archived article and the information in the article may be outdated. Please look at the time stamp on the story to see when it was last updated.
DALLAS -- He's one of the funniest guys in the game. And these days, if Kevin Hart isn't making your abs hurt from laughing, he's testing them in a different way -- running! The superstar comedian teamed up with Nike for the Run With Hart campaign.
And early Friday morning, over 2,000 people came out to join him on the Continental Avenue Bridge in the Big D.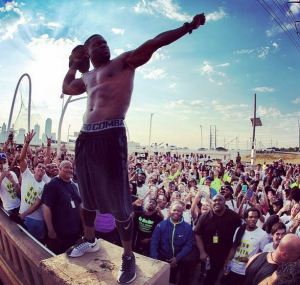 "It is the morning time and I love that I'm looking at so many people up and ready to get it," Kevin Hart told NewsFix.
While on his "What Now" tour, which stops here Friday night at the AAC, Hart is squeezing in a free 5K run in each city.
"Had two shows last night, but I didn't let that stop me," Hart said. "I am up and I'm a man of my word. I said I wanna run in Dallas and I wanna run in a major way and it looks like we showed up."
Yep, lots of folks showed up.
"We're excited. It feels good out here and we are ready to hit the pavement with Kevin Hart," a runner said.
"This is not a race. I don't do this to promote it as a race. I love to make people better," Hart said. "If you don't run, this is your first day. All I'm trying to do is motivate you to start a healthy lifestyle."
Hey, he may not be the  biggest guy, but it's pretty safe to say he has a big heart.