This is an archived article and the information in the article may be outdated. Please look at the time stamp on the story to see when it was last updated.
DALLAS -- Gibson was battling the blues when he showed up at Dallas Animal Services.
"He was perfect. Perfectly healthy," said Dallas Pets Alive! Marketing Director Haley Edman. "Got along well with humans, dogs, cats."
When the shelter filled up, this growing pup was in danger of being lost to the system, at least until Dallas Pets Alive! came to the rescue.
"They had to make room in the shelter, and when we saw Gibson needed a home, his foster jumped on getting him out," Edman said.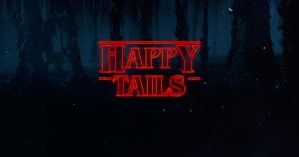 And that wasn't the last helping hand Gibson got to turn his life upside down. We're talking happy tails!
"Look at the face and the ears! You can't resist!" said adoptive mom, Liesl Hlavacek.
Hlavacek did not grow up a dog person, but after some convincing from her husband, they rolled the dice on Gibson.
And now?
"I quickly acclimated to the life of dog lovers," Hlavacek said. "Now I can't imagine not having him in our life."
So what's one of the stranger things this big boy's been up to in his new home?
"We just finished the Netflix series Stranger Things, and if anybody's seen it there's this big monster called the Demogorgon," Hlavacek said. "So when he lays and stretches all his limbs out, he looks like the Demogorgon."
Now if only the cat realized he's not actually a two-headed monster!
"We're working on slowly introducing them and getting the cat to realize that he's not that scary even if he's five times his size," Hlavacek said.
Crank it up to Eleven because this Gibson has a new home!
If you'd like to check out adoptable animals at Dallas Pets Alive! check out their website: www.dallaspetsalive.org