This is an archived article and the information in the article may be outdated. Please look at the time stamp on the story to see when it was last updated.
DALLAS -- Let's play a game of 'Is it funny, or is it not!'
In the category of skinny, dancing cartoon skeletons are definitely funny. A real life dog that could fit in with those boogieing bags of bones? No. Not funny.
"When Coretta was first brought into the shelter, she was only 15 pounds," Dallas Pets Alive! Marketing Director Haley Edman said.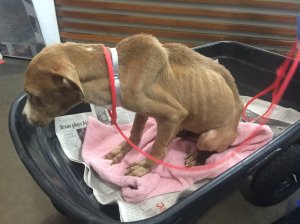 She was brought to Dallas Animal Services as a stray by a good samaritan, but before she even got in the door, Dallas Pets Alive! scooped her up through their PASS program.
What does PASS stand for? Positive Alternatives to Shelter Surrender.
"Every Saturday we sit out at Dallas Animal Services," Edman said. "What we can do is help with some medical and also some behavioral training."
The goal is to offer tools to convince owners to keep their dogs instead of crowding the shelter, but with Coretta the only option was to make a life saving effort.
"If she were to be surrendered into the shelter, she probably wouldn't have made it through that night," Edman said from Boarding Bungalow - Las Colinas.
If she was going to make it, she'd need a strong name.
"We got her into our program around Martin Luther King Day, and we thought what better way to honor Coretta (Scott King) than to name this beautiful pup after her in order to give her the strength she needs to survive," Edman said.
And it worked!
Coretta has doubled her weight up to 28 pounds, and a once pitiful pup has transformed into a playful pup.
So who can take home this persistent pooch?
"Coretta isn't shy about giving plenty of kisses, so I hope you like kisses because she'll definitely be slobbering all over you," Edman laughed.
Guess that means everyone's welcome! Pucker up!
If you think you can help animals by adopting or fostering with Dallas Pets Alive! check out their website: dallaspetsalive.org