This is an archived article and the information in the article may be outdated. Please look at the time stamp on the story to see when it was last updated.
STAMFORD, CT — Hey, remember all those McDonald's employees who demanded a salary increase? Well, looks like that might have backfired on them.
According to a Reddit user, a McDonald's in Illinois has replaced their cashiers with machines! Guess robots do exist in the near future.
But Mickey D's isn't the only company swapping out the human touch for a more cost efficient alternative.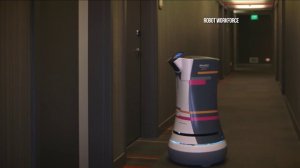 Aloft Hotel in Cupertino, California is rolling out BOTLR, a robotic bellhop to shuttle guest's items from the lobby desk to rooms.
Once it's at your door, your phone rings and voila! This experimental robot could be something we see more of in the future, taking our wait time virtually down to nothing.
Looks like this time, a tech-forward approach could leave members in the service industry taking a step back.