This is an archived article and the information in the article may be outdated. Please look at the time stamp on the story to see when it was last updated.
NEW YORK -- Queen Bey is back. This time, she's flexing some serious muscle.
On Thursday, Beyonce announced her new activewear line for women -- Ivy Park.
https://www.instagram.com/p/BDnsbxNBhFW/?taken-by=weareivypark
Of course, the Internet is calling it #Flawless.  And in true Beyonce fashion, she released this video...
It's set at a park in Houston where her father used to take her.
"The park became my strength," Beyonce says in the video. "The park is what made me who I am. Where's your park?"
Hey, it's pretty fitting that Bey has her own fitness line. She's been giving us Fit-Spo goals since "Bootylicious."
But not everyone is excited about Beyonce's venture into the world of athletics. Fitness brand Lululemon took to Twitter to throw some shade, tweeting: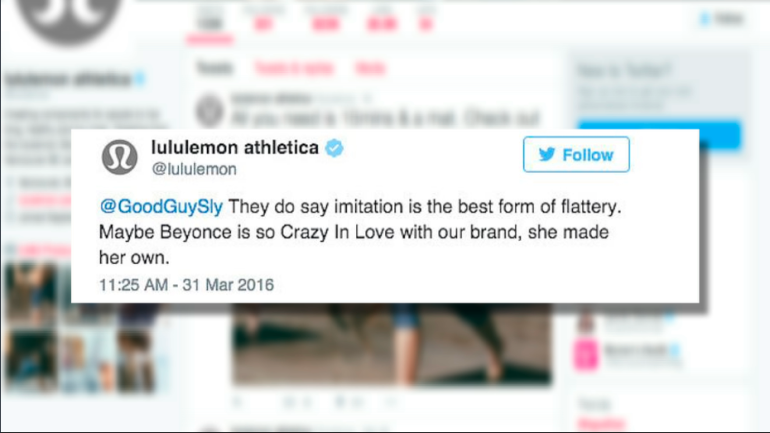 But the Beyhive wasn't having it! They bashed Lululemon's tweets until they eventually took them down.
Who's bowing down now?!?!
Ivy Park is set to launch April 14 and is collabarting with Top Shop's Sir Philip Green. You can find the swaggy gear at Top Shop, Net-a-Porter and Nordstrom.
Oh, and did we mention she's also on the covers of Elle US...
🐝🐝🐝🐝 BREAKING: Beyoncé SLAYS on our new cover!!!! 🐝🐝🐝🐝https://t.co/EueJb2aIT9 pic.twitter.com/xbai7SLR0q

— ELLE Magazine (US) (@ELLEmagazine) March 31, 2016
And Elle UK?!
FIRST LOOK! @Beyonce SLAYS on our cover... https://t.co/VrnMxmr0Je pic.twitter.com/Y7dMD5RIzQ

— ELLEUK (@ELLEUK) March 31, 2016
Beyonce sure knows how to keep the Bey Hive "Dangerously in Love!"