This is an archived article and the information in the article may be outdated. Please look at the time stamp on the story to see when it was last updated.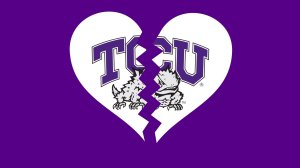 FORT WORTH, TX — So, Did you feel it? No, not another earthquake – it was collective heartbreak in the home of the Horned Frogs.
"I think it`s all political. I think they want big teams with money," says TCU fan Brooks Aiken.
Word got around pretty quick that TCU was snubbed from the first-ever College football playoff.  Yeah, it wasn't a pretty sight around the TCU campus.
"I expected us to only be knocked down to fourth," says Aiken.
Still, some say they saw it coming. "It`s really sad but kind of expected. I don`t think anyone expected Ohio State to play that well," says former marching band member Margaret Granado.
If getting bumped from the top four by Ohio State wasn`t bad enough, the committee added insult to injury by dropping TCU behind in-state rival Baylor. Talk about that bad news bears.
There is a purple lining to this dark cloud — the Frogs are going to a bowl. That's right, they'll go head to head with Ole Miss in the Peach Bowl.
Hey, these Horned Frogs may be an endangered species, but they're still fierce — and they're ready to prove the haters… we mean the selection committee, wrong.
"At the end of the day, we weren`t bowl eligible last year so this is a still a great season," says Granado.
Hey after going 4-8 last year, it`s still been a banner season for the Frogs.