This is an archived article and the information in the article may be outdated. Please look at the time stamp on the story to see when it was last updated.
LOS ANGELES --  The LAPD is testing a knife that could be linked to the O.J. Simpson murder case.
No, this is not a headline from 1995. TMZ  reported Friday that a construction worker found a folding buck knife at O.J.'s estate as early as 1998.
And we're just hearing about this now?!
Here's why.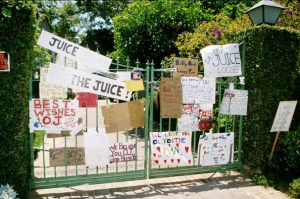 The knife was reportedly given to an off-duty police officer who was nearby working security for a movie shoot. The officer, who worked in the traffic division, had kept the knife ever since and his superiors didn't know about it until he retired.
Uhh... what?!
The former cop reportedly told a friend in the police department's Robbery Homicide Division that he was going to have the knife framed. That officer went to his superiors who demanded the retired officer to turn over the knife, the report said.
Smh...
TMZ, citing sources, said the knife is being tested for hair and fingerprints, and will be tested for DNA and other biological evidence later.
Could it be the murder weapon?! Or a crock of you know what?!
O.J. Simpson was acquitted in October 1995 of killing his ex-wife Nicole Brown Simpson and her friend Ronald Goldman. Simpson cannot be prosecuted again.
He's currently in a Nevada prison doing time for kidnapping and robbery for an incident that went down in a Las Vegas hotel room.