This is an archived article and the information in the article may be outdated. Please look at the time stamp on the story to see when it was last updated.
DALLAS — Just went you thought we were done talking about the Dallas dog, Lamb of God, and his panhandling partner, Sean Baugh… well here's part two!
No joke.
Lamb of God was taken from Baugh after biting a child, and placed on doggie death row. The dog was spared, but his owner was heartbroken.
Fast forward a couple months., looks like Baugh has a new bff.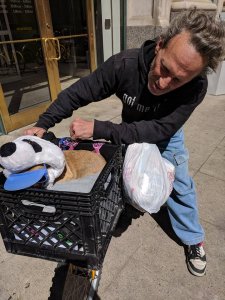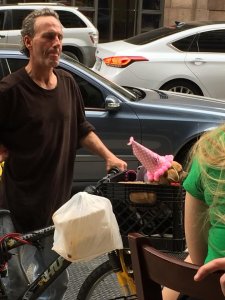 People who say Baugh abused his dog are upset. "Unfortunately this dog is going to suffer a horrible fate," says Jessica Brodsky. She is one of the people who helped save Lamb of God's life.
People throughout the community are taking and posting pictures and videos of Baugh with his new puppy, all dressed up in various outfits.
Brodsky says, "He told all of us, trying to get this pity from everybody after the Lamb of God, saying oh it's all about the dog, I love this dog, I just want this dog to have a great life. And then, as soon as the cameras were off, he went back to being the same man, and exploiting yet another dog. Putting it back into the same crate, and putting a hat on it, and you know, doing the exact same thing, he hasn't learned a lesson."
Meanwhile, during Monday's city meeting to discuss changes for Dallas' dangerous dog ordinance, Baugh's new dog was a topic of conversation.
"The system definitely failed our communities." says Fran Gaconnier. She's the founder and executive director at Gypsy Dog Ops and the Oak Cliff Animal Initiative. "There was really no win for anyone. There were multiple bites, the dog was being allegedly neglected and abused, and transported in a way that was inhumane. And, for that to continue because the system is too lose, or because the system couldn't support that, and then it ended in the dog biting a child, it failed everyone."
We couldn't reach Baugh for his side of things, however last time we talked to him, he told us he is not an animal abuser.
Regardless of your thoughts about the whole story, it sounds like there is some change coming in the way Dallas deals with dangerous dogs.