This is an archived article and the information in the article may be outdated. Please look at the time stamp on the story to see when it was last updated.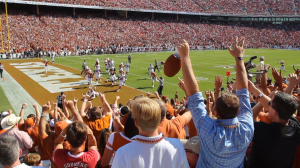 FAIR PARK – With Oklahoma undefeated and Texas off to it's worst start since 1956, Saturday's Red River Showdown was supposed to be a blowout in favor of OU.
But, no one told Texas they didn't have a chance.
The Long Horns got off to a 14-0 lead, then held off a fourth-quarter comeback attempt from the 10th ranked Sooners, for the biggest win of the Charlie Strong era.