This is an archived article and the information in the article may be outdated. Please look at the time stamp on the story to see when it was last updated.
DEEP ELLUM — Let's face it, despite what some people think, we live in a politically correct world. It's an environment that can make it hard for an amateur comedian to crack a few jokes every now and then — all in the fear of the "O" word. We're talking about "outrage."
A restaurant in Deep Ellum is proving that it's not only for social media posts but old school chalkboard messages as well.  It's all because of a joke centered on Bill Cosby and MMA superstar Ronda Rousey in front of the restaurant Twenty Seven.
It reads, "Only Mr. Cosby knows how to knock out Ronda Rousey".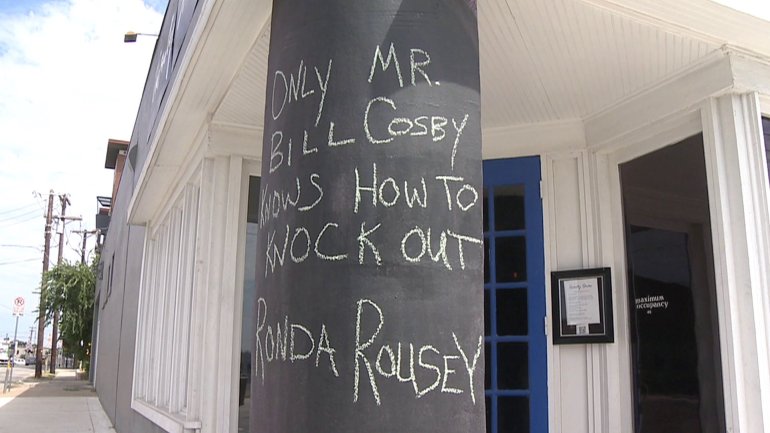 It got the attention of a female passerby who quickly let her disgust be known on Facebook. But David Temple, the owner of the restaurant, doesn't see what all the fuss is about.
"We're not really that PC around here, so we're going to have fun and write more things on our boards. And I'm sure other people and other groups will get offended by things we write," Temple said.
Although, Temple did point out that he sent an apology to the few people who vented their frustration on Facebook. He says that's normal procedure when someone voices their displeasure.
If you want to see the joke for yourself, it may be too late. Temple says it's being replaced by another one pretty soon.
"We're going to change it today [Wednesday] and make it something even more funny."
So stay tuned, there may be more outrage yet to come.