This is an archived article and the information in the article may be outdated. Please look at the time stamp on the story to see when it was last updated.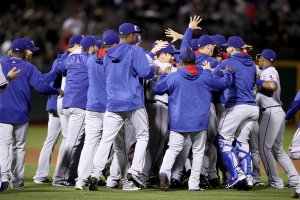 OAKLAND, CA — For the second straight year, the Texas Rangers are your A.L. West Champions!
Yeah, they shut down the Oakland A's 3-0 Friday night to clinch the division crown, but you may have noticed that the celebration was a little tamer than last year's division triumph.
Maybe it's because this club removed all the drama weeks ago, with this just making the championship official, while last year it took all 162 games to lock it up.
Or maybe it's still those haunting memories of last year's playoff loss to the Blue Jays that have this team and their fans remembering that this is just the beginning, and there's a much bigger October prize they want to bring to Arlington.
And there's still plenty to play for in the regular season. Texas is still in a dogfight with Cleveland and Boston for who will be the best in the A.L. and who will have home field in the post-season.
So hopefully Friday night was just the first of several champagne celebrations… but for today, hold your head high, Rangers Republic. Your team are champs again!