This is an archived article and the information in the article may be outdated. Please look at the time stamp on the story to see when it was last updated.
DALLAS -- With Election 2016 just over a year away, candidates have been announcing left and right. The latest, from right here in Dallas, is Nelson the Goldendoodle!
NewsFix met Nelson last summer. And since then, he's become a local celebrity. He's best known for his signature Vespa sidecar ride -- complete with "doggles!" Yes, dog goggles.
"He brings a lot of smiles to people around Dallas through his Instagram, Twitter, Facebook, Snapchat," his owner Genesis Butler said with a chuckle.
And now, he's hoping that fame will fetch him some votes.
"Well, I don't think a lot of dogs are running for President," Butler said.
Joining Nelson on the campaign trail is Walter the Wolfhound, who's pulling double duty.
"Secret service as well as vice-president, so he's basically Nelson's right-hand man through the whole campaign," Butler explained.
Nelson didn't want to make any political promises, but we asked his campaign managers just what it is Nelson stands, we mean, sits for. He wants to get America back to the glory days for dogs -- free treats, fewer baths, etc.
Who could argue with that? And hey, he's got better hair than some of his competition.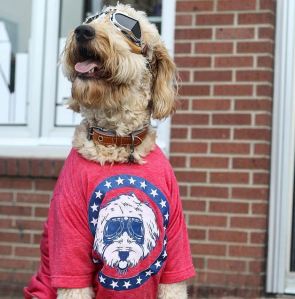 All this campaigning can be exhausting, but it is for a good cause.
"10% of all the shirt sales goes to the Texas SPCA," Butler explained. "So, it's our way of giving back to dogs in need."
You can support Nelson's campaign and help local animals by buying a shirt online.
In the meantime, these two puppy politicians are back on the road to the doggy White House.