This is an archived article and the information in the article may be outdated. Please look at the time stamp on the story to see when it was last updated.
GARLAND -- The sign language was clear at Saturday's protest against Dillard's alleged "No Hijab" policy. CAIR- DFW and the community lined the sidewalks in support of Duha Dallah.
Last month, the college student took to Facebook to tell of her recent run-in with the Dillards at Firewheel Town Center in Garland. According to the now viral post, Dallah says she landed a job at the department store but before she could start she was told to ditch her headscarf. When she refused, she was allegedly denied the gig.
"They did not hire a young girl because she wore hijab, it's anti-American and it's discrimination based on religion," Inayet Sahin of CAIR-DFW told NewsFix. "This shows her that there are still people willing to fight for our American ideals."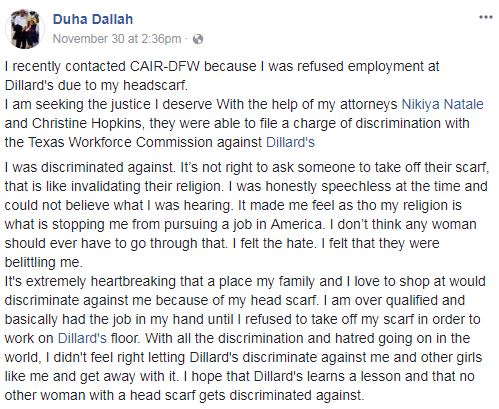 In a statement Dillards told NewsFix:
"It is Dillard's longstanding policy to accommodate religious beliefs in all areas of employment, including dress code requirements."
According to Dallah's post, she's seeking justice and has filed a lawsuit against the department store.
"We should be able to wear whatever we want and practice whatever religion we want," protesters added.