This is an archived article and the information in the article may be outdated. Please look at the time stamp on the story to see when it was last updated.
FRISCO, TX — It's Decision 2016! In the next few weeks, the tough choice will be made on who will be running America… America's Team that is!
Yeah, the Cowboys have a quarterback choice to make after rookie Dak Prescott has shattered expectations, leading Dallas to a 5-1 record while Tony Romo recovered from a preseason back injury. Now that Tony is almost ready to return, we've got a full blown QB controversy on our hands.
So here are your candidates: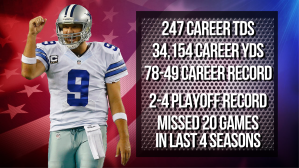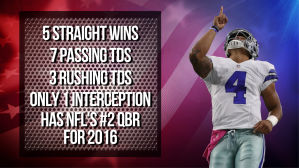 Romo is the veteran, with the proven track record, owning almost every major Cowboys quarterbacking record, but with a sketchy playoff and injury history.
Meanwhile, Dak is the hot hand with five straight wins. He's won big time endorsements from a number of Cowboys legends like Roger Staubach, Troy Aikman and Emmitt Smith who all think the Boys should stick with #4.
The fans seem to agree: In the first NewsFix QB Election Poll, Cowboys Nation wants Dak in a landslide.
But the only votes that will be counted are the ones cast at The Star. So is Jason Garrett revealing his voting preference?
"We don't deal a whole lot in hypotheticals," Garrett said when asked about the Romo-Dak debate. "What we try to do is we try to focus on what's in front of us right now and do the best job we can as players and coaches."
So it looks like we'll just have to wait and see who will be the Commander and Chief of the Dallas Cowboys. At least this is one campaign where both candidates seem like good options!