This is an archived article and the information in the article may be outdated. Please look at the time stamp on the story to see when it was last updated.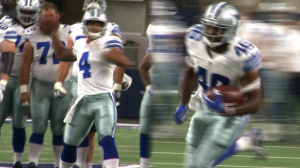 ARLINGTON, TX — The Boys had a blast last night in their pre-season home opener, blowing out Miami 41-14. The biggest headline was again QB Dak Prescott, who threw for 199 yards, 2 touchdowns and ran for two more.
After the game, Dez Bryant was raving about the rookie.
"The guy's a student of the game," said Bryant, who caught one of Dak's two touchdowns. "You've got to give him credit, the guy's pretty amazing."
But Dak was giving the props to the veterans he's studying behind.
"I've learned a lot. I've got to give credit to my coaches, every single one of them," Prescott said after the game. "And obviously Tony Romo and the older guys, the older receivers, Dez, Jason [Witten], just all for teaching me and I'm just trying to be a sponge and absorb all of it."
Another guy who absorbed all the attention Friday night was running back Alfred Morris. The big name free agent has almost been forgotten about since Dallas drafted Ezekiel Elliott.
But with 'Zeke' still out nursing a hamstring problem, Morris showed why the Cowboys wanted him, scoring a TD and even busting out his old "Home Run" celebration that haunted Dallas when he played for the Redskins.
"I hesitated when I first did it, but then I was like 'Oh no, I can do it!'" Morris joked after his 85 yard game. "It was weird at first, but I'm going to get used to it, just in a different uniform, but thankful to have this uniform on, thankful just to have these opportunities, and thankful to have fun."
Well, for the first time in a long time, Dallas did have some fun with a win, even if the result doesn't count in the standings. After the way this team just played, though, it can give everyone a little hope that there are more fun days on the horizon!