This is an archived article and the information in the article may be outdated. Please look at the time stamp on the story to see when it was last updated.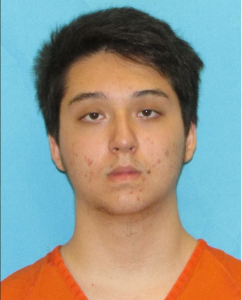 COLLIN COUNTY – A Plano ISD student has been arrested and charged after an undercover investigation into an ISIS-inspired shooting attack at a North Texas shopping mall.
Matin Azizi-Yarand was arrested for soliciting others to join in a mass shooting at a local mall sometime in mid-May. Affidavits released by the Collin County District Attorney Greg Willis say the 17-year-old sent more than $14,00 to others to buy weapons and other tactical gear and  he had written and planned to announce his 'Message to America.'
Frisco and Plano police departments worked with the FBI in investigating Azizi-Yarand, who is charged with making a terroristic threat and criminal solicitation o f capital murder.
According to affidavits, Azizi-Yarand was communicating with undercover FBI agents in December 2017 when he talked about his desire to either "make hijrah [travel]" or conduct a terroristic attack within the US.
"Look at all the other lone wolves // What training did they have yet they simply killed the kuffar [Arabic for 'disbelievers']? // the brothers in Europe the brother in Spain the brother in New York? Had no military training // it's not about numbers it's about getting a message across to these taghut countries  it's dangerous tho akhi we have to be careful some have gotten arrested // so we good brother?"
After an undercover agent responded, "ok," Azizi-Yarand explained his plan of waiting until he was 18 to actually attack so he could buy a rifle on his own.
"I've only been reading ISIS magazines for guides for performing operations and making bombs."
The teen told agents he learned about Islam on the internet "when I first wanted to learn the truth about Dawlah Islamiya [ISIS]." Azizi-Yarand also told agents:
"Yes, I want to put America in the state that Europe is in which is having to have soldiers deployed in streets" and "something that will cost them a lot financially too."
"We are fortunate that the brave men and women of local and federal law enforcement work around the clock to prevent acts of terrorism and mass shootings," said Collin County District Attorney Greg Willis. "I'd like to thank the FBI's North Texas Joint Terrorism Task Force and the Frisco and Plano Police Departments for their efforts in this case and their vigilance in protecting the citizens of Collin County."
Azizi-Yarand, who lives with his mother and father in Plano, is currently in jail with a $3 million bond, facing life in prison if convicted of criminal solicitation and up to 10 years for making a terroristic threat.