This is an archived article and the information in the article may be outdated. Please look at the time stamp on the story to see when it was last updated.
PLANO -- Look, we get it -- no one likes being stuck in bumper-to-bumper, stop-and-go, sea of taillights traffic.  That's why construction zones suck. But those orange cones are in place for a reason.  They're meant to help steer you away from danger... Or, in this case, "Dumbass of the Day" status.
Check out this Plano driver....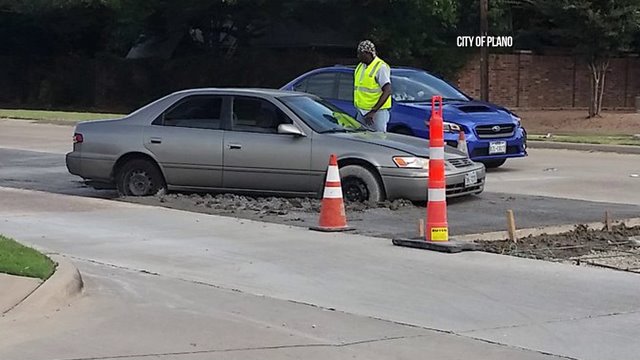 No, your eyes aren't deceiving you. That driver is stuck in wet cement, and the city says it's been happening a lot.
Gerald Cosgrove, director of Plano's Public Works Department, says his department alone has seen three in the last month.
"They're tired of waiting. They go, 'I'm gonna find the quickest way to get through this.' And then they drive into an area that's hazardous to them and to the workers as well," Cosgrove said.
Wow! That's what we call "Plain-o" dumb driving.
Ya know... If you don't like construction, maybe you should let workers finish, instead of making them start over.
But hey, plenty of folks have trouble with the whole "driving" thing. So much so, one Plano driver has dedicated a Youtube channel to documenting the city's road warriors.  From running red lights to cutting people off... they're all put on blast!
Still, none of those drivers left their mark quite like those Plano cement divers...
Guess there's bad driving... and then there's bad driving.