This is an archived article and the information in the article may be outdated. Please look at the time stamp on the story to see when it was last updated.
GAFFNEY, SC — This is enough to tick off any parent. A 15-year-old girl could face criminal charges for putting her toe in a baby's mouth then posting the picture on social media.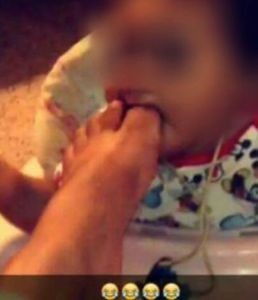 That's right, her toe. Disgusting.  The now viral photo was taken a home in Gaffney, South Carolina that may have been running an illegal daycare operation.
"It's very disturbing. Somebody should be apologizing," said Bridgette Dawkins, who knows the child's mother. "And there should be something done about it. It don't need to be pushed under the rug; she needs to be punished."
Police say the 15-year-old, who is not related to the baby, was visiting the homeowner's daughter. Right now, she has not been charged. That could change as police and the South Carolina Department of Social Services investigate.