This is an archived article and the information in the article may be outdated. Please look at the time stamp on the story to see when it was last updated.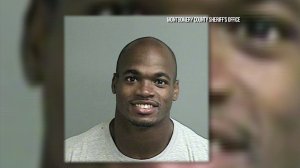 CONROE, Texas — NFL star running back Adrian Peterson is getting a slap on the wrist for whipping his son with a tree branch.
Peterson pleaded no contest Tuesday in a Houston area court to one count of misdemeanor reckless assault, after prosecutors and his attorneys reached a plea deal.
Judge Kelly Case agreed to the terms of the deal, in which Peterson pleaded to a lesser charge.
The Minnesota Vikings star was sentenced to two years of probation, a $4,000 fine and 80 hours of community service — half of which will be taken care of by a public service announcement.
He also will take parenting classes.
Peterson gave a brief statement outside the courthouse.
"I truly regret this incident," he said. "I stand here and I take full responsibility for my actions. I love my son more than any one of you can even imagine."
Now, the NFL will have decide on what disciplinary action the league will hand down, as well.
"We will review the matter, including the court record, and then make a determination on his status. We cannot provide a timetable," NFL spokesman Brian McCarthy said.
Peterson's attorney, Rusty Hardin, called the plea deal "fair and just."