This is an archived article and the information in the article may be outdated. Please look at the time stamp on the story to see when it was last updated.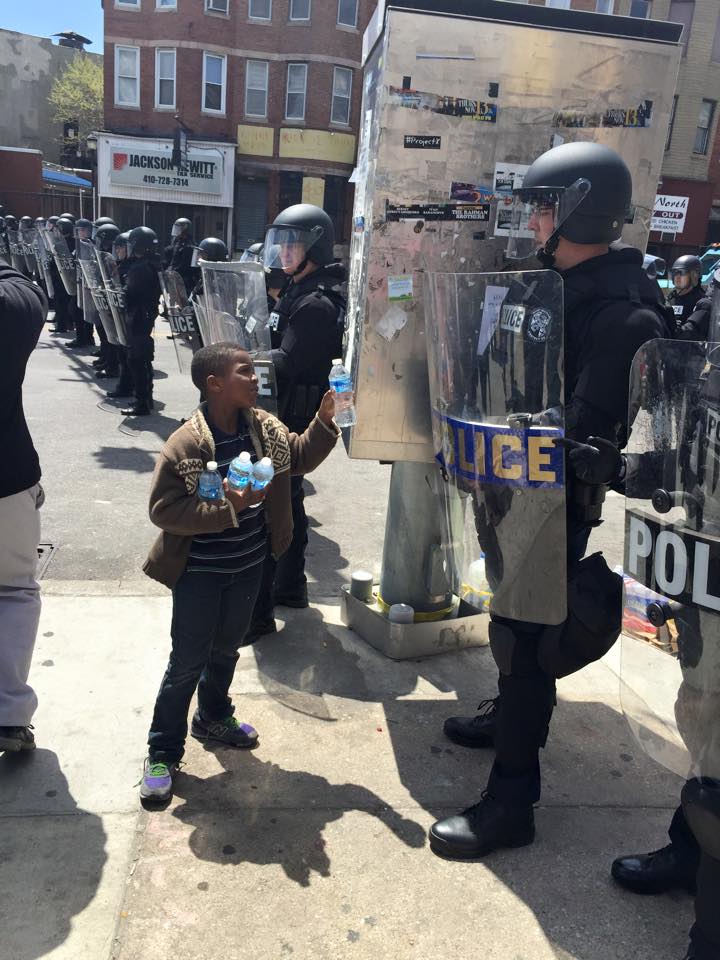 BALTIMORE – As violent protests escalate across Baltimore, one picture is touching hearts. It shows a little boy handing bottled water to officers armed in riot gear.
Bishop M Cromartie posted it to his Facebook page Tuesday with the caption, "One of many pictures that I captured today in the midst of helping clean up the city and it speaks VOLUMES."
"This picture is starting to spread. Thanks for using social media to show a positive side to these current events," Lamont Franklin commented.
You've no doubt seen the disturbing images of looters attacking officers, burning down buildings and the viral video of a mother smacking her son for taking part in the chaos. But there are tons of PEACEFUL protests across "Charm City."
Here's a look at some of the truly touching images.
This guy is leading the group songs. Got the group belting out "Lean On Me" now. "Y'all sound amazing!" pic.twitter.com/8gsqZd0G6g

— Brandon Weigel (@brandon_weigel) April 28, 2015
Atmosphere on north ave and Penn ranging from street party to sermon to confrontation throughout the day #Baltimore pic.twitter.com/DfvY93qn7W

— Megan Specia (@meganspecia) April 28, 2015
Large group of volunteers cleaning up that burnt out CVS in Baltimore pic.twitter.com/84BVzu7SWS

— justin jouvenal (@jjouvenal) April 28, 2015
Black Lives Matter. Jesus. #FreddieGray pic.twitter.com/5qW0BAkJfx

— deray (@deray) April 25, 2015
This is Jason Butler. He showed up this morning to clean up a devastated neighborhood #BaltimoreRiots pic.twitter.com/A6jFFDLphZ

— Megan Pringle (@MeganWBAL) April 28, 2015
Students and community unite to clean the street near new NAACP office in #FreddieGray's#Baltimore neighborhood. pic.twitter.com/nuZMRaqNMZ

— NAACP (@NAACP) April 28, 2015
https://twitter.com/yaa_za_mine/status/592877229375361024
Lots of kids at the #FreddieGray #PeacefulProtest pic.twitter.com/Y9zqokbqPV

— MK (@haxromana) April 25, 2015
Across the street a large group works to fill a dumpster with the debris from the CVS. pic.twitter.com/UYKEJdWkZ9

— Brandon Weigel (@brandon_weigel) April 28, 2015
Folks have come to support #FreddieGray, standing across the street from the viewing. Baltimore. pic.twitter.com/hxJwvKaauN

— deray (@deray) April 26, 2015