This is an archived article and the information in the article may be outdated. Please look at the time stamp on the story to see when it was last updated.
OREGON — It's not the end of the world but folks in Oregon sure are acting like it!
A new state law has passed allowing them to pump their own gas at certain stations — instead of having it done for them by an attendant.
It's a "chore" we're pretty used to here in the Lone Star State but for some reason it's leaving Oregonians flabbergasted. Their complaints on social media have left everyone else in the country confused.
Some Oregonians say they're worried about it being too cold to get out the car and pump their own gas while others are scared they'll catch on fire.
Check out some of the comments we dug on Facebook.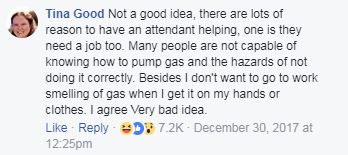 Sounds like Oregonians have let those fumes get to their heads.