This is an archived article and the information in the article may be outdated. Please look at the time stamp on the story to see when it was last updated.
DALLAS — Bring out the soil, sunshine and seeds! John Reagan Elementary is replacing pen and paper with fresh air and gardening.
"We're breaking ground in our real school garden. It's a really exciting event, and so, this is going to be a learning garden for the future of our children," Principal Ruby Ramirez told NewsFix.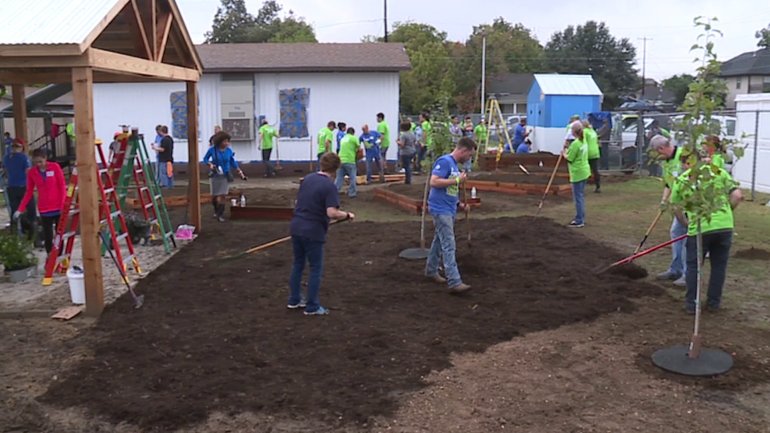 Now, this isn't a typical garden.
"We have different flower beds that are going to be placed throughout the garden," explained Ramirez. "We have a sensory garden, we have an area where we will have 25 seats where students will be able to have outdoor classroom."
The process was not as organic as it may seem.  More than a year ago, three teachers, who happen to be sisters and attended the school when they were children, applied to nonprofit REAL School Gardens to receive an outdoor classroom.  To make their dream a reality, REAL School Gardens partnered with AT&T and Sprouts Healthy Communities Foundations for the necessary funding and volunteers.  This is AT&T's first REAL School Gardens project.  For the Sprouts Healthy Communities Foundation, this was the launch of a larger multi-year $500,000 partnership with REAL School Gardens.  Sprouts Healthy Communities Foundation is the nonprofit arm of Sprouts Farmers Market.
"It has been a long process. We started with the interview, we had floor plans and lessons available for interviewers, sketches of everything that we envisioned our garden to be. It's been two long years that we've waited for this," said Garden Coordinator Blanca Vazquez.
"It just feels so amazing that we can give back to these kids something that we didn't have when I was here," said Hospitality Coordinator Carmelita Vasquez.
Maria Vasquez, Construction Coordinator, added, "Everybody's just getting their hands dirty, making sure that this garden is beautiful for our students."
They've planted the seed, now they just have to watch it grow.