This is an archived article and the information in the article may be outdated. Please look at the time stamp on the story to see when it was last updated.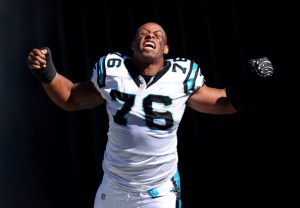 MECKLENBURG COUNTY, NC – The Cowboys are ready to have defensive end Greg Hardy on the field.  But the NFL's not so sure when he'll get to play.
That's because of the domestic violence charge he faced last year.  A judge convicted him, but that verdict was appealed and overturned.
Now the NFL will get to look at seven photos that were used as evidence in the first trial.
The NFL's really being careful about this one.  Commissioner Roger Goodell took a lot of heat last year when he suspended Ray Rice for two games following a domestic violence indictment, only to have that shocking video of Rice and his then-fiancé released to the public.
RELATED: Troy Aikman Weighs in on Cowboys Signing Hardy
Goodell tried to suspend him for life, and the whole thing played out in court. Bottom line, Rice can play, if anyone will hire him.
Under new NFL rules, a player's first domestic violence incident gets a six-game suspension, at the least.
But Hardy was arrested before the new rule took effect.
So, the photos could help the league decide what's  fair punishment and when Hardy can take the field.