This is an archived article and the information in the article may be outdated. Please look at the time stamp on the story to see when it was last updated.
NORTH TEXAS -- On the heels of last month's March For Our Lives, students across the country united again on Friday for National School Walkout, another push for common-sense gun law reforms and political engagement among youth.
"We can have all the walkouts we want," says David Hogg, a survivor of the school shooting in Parkland, Fla. this past February, "but if we don't walk into that ballot box and make our voices heard, these politicians aren't going to listen."
The event was proposed following the Parkland shooting and scheduled to coincide with the 19th anniversary of the Columbine school shooting.  The urgency of the participants' desire to make schools safer was reinforced by another school shooting Friday morning in Florida, which was limited to a single non-life-threatening injury but still marked the 20th shooting that injured or killed someone on a United States school campus this year.
More than 2,600 walkouts were scheduled to take place, however not all of them went as planned.  Keller High School asked students to cancel their walkout due to reported threats of violence if they went outside, and Allen ISD said it would consider a walkout a disruption and charge any participants with an unexcused absence, but a district official estimated between 200 and 250 students walked out anyway.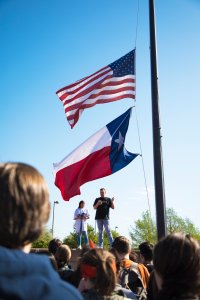 Among that group were Wendy Ellis' two daughters, who had a very personal reason for walking out: the nanny the family employed while previously living in Colorado was a student at Columbine when the attack happened, and she witnessed one of her friends die.
"I very, very vividly remember [her] telling us about what that experience was like and how that impacted her life, and how that changed her," says Ellis.  "I think it's really important that we don't forget what happened 19 years ago, or that it's still happening."
Allen High School did allow students to hold a rally after the school day was over and many still attended, but some felt that weakened the intended impact.
"A lot of people felt the profundity of the original message was lost," says Ariana Kelly, who attended the afternoon rally to avoid disciplinary action.  "Originally we had over 500 students pledge their allegiance to the campaign, and immediately after [the school threatened punishment for walking out] an incredibly noticeable amount of them just dropped out."
Despite the diminished turnout, students remain resolute in their mission to make schools safer.
"We want actual political change," says Izzah Zaheer, "and we hope that these rallies and writing letters [to politicians] will translate to political change and get people to vote."