This is an archived article and the information in the article may be outdated. Please look at the time stamp on the story to see when it was last updated.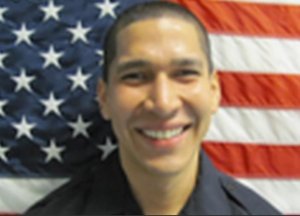 NORTH MIAMI, Fla. — The North Miami cop who shot an unarmed African-American man lying in the street with his arms in the air earlier this week has been identified by police.
Officer Jonathan Aledda shot Charles Kinsey, North Miami City Manager Larry Spring Jr. said at a press conference Friday. Aledda has been placed on administrative leave.
A second officer, Emile Hollant, has also been placed on administrative leave without pay after giving conflicting statements to investigators, Spring said.
Cellphone video taken moments before the shooting shows Charles Kinsey lying on the ground face up, holding both hands high in the air, as another man sits on the ground next to him holding a toy truck. The officers had received a call of an armed, suicidal man who they believed to be the man next to Kinsey. Instead of a gun, however, he was armed only with the toy truck.
Cellphone video shows Kinsey lying in the street, holding his hands in the air. "All he has is a toy truck," Kinsey shouts. "I am a behavior therapist at a group home."
Kinsey was hit in his right leg after two or three shots were fired, according to his attorney.
"When he hit me, I'm like, 'I still got my hands in the air,'" he said.
"I'm like, 'Sir, why did you shoot me?'" Kinsey said he asked the officer.
"He said to me, 'I don't know.'"
Kinsey told WSVN he was flipped over and handcuffed after the shooting. According to Napoleon, Kinsey was on the ground for 20 minutes before an ambulance arrived.