This is an archived article and the information in the article may be outdated. Please look at the time stamp on the story to see when it was last updated.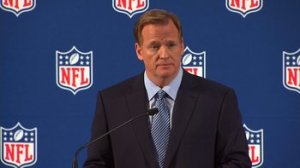 DALLAS – In day three of the Super Bowl Seats Trial, NFL Commissioner Roger Goodell finally took the stand. Well, sort of.
A video deposition of Goodell from August of 2013 was played in court. In it, Goodell said he accepted responsibility for what happened. He said he wanted to talk to the disappointed fans, but security advised him not to do so for his own safety.
Yeah, probably not the best thing to show your face to a group of pissed off fans, a group that included at least one person who paid $35,000 for a ticket and events package.
Even though Goodell said he took responsibility for the seating mishap, he used strong words to describe Dallas Cowboys Vice-President Stephen Jones' role in the controversy.
Roger said he hadn't talked to owner Jerry Jones about the seating issues, but he did talk to Jerry's son Stephen. He said Stephen and the Cowboys knew that if the seats weren`t installed in time it "would be a black eye for the league."
The trial was adjourned for the day because of expected bad weather. Goodell's video is scheduled to resume Thursday afternoon. Guess this courtroom drama is "to be continued…"